MAGICALLY SELECTED FOR YOU
Wizard Reviews
Customer Reviews
Write a Review
Ask a Question
07/28/2020
Patricia P.
United States
I recommend this product
Awesome Bag
Bought this for a friend for doing something special for me and she absolutely loves it, superb quality. A perfect gift for a Harry Potter fan fir sure.
07/22/2020
Anonymous
Australia
I recommend this product
My Pretty Hermione Bag
Thankyou, I love it. The materials, beading is beautiful and nicely done, it opens up to a good amount. I have it on display in my room and I'm going to take it to anything Harry Potter related. The only thing is the delivery took a few weeks to get to me if it's from the Harry Potter Shop on the Gold Coast to get to Lismore N.S.W but I'm a patient person.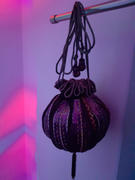 06/03/2020
Sally M.
United States
I recommend this product
Hermione Granger Bag
Beautiful velvet bag. Very satisfied. It is the shipping process and non-gift card that I have a problem with. You should let people know that it takes over a week to get the products they order. Mine took 10 days. At one point the pkg. was only 1 hr. away and it took 3 days from there. You should offer a gift card to the purchaser to fill out. You should offer free shipping if you cannot get the product to the purchasers mailing address within a reasonable time. Sally G
06/02/2020
Debby G.
United States
Bag
It is exactly what I thought Hermione's bag would look like and feel. Amazing
05/25/2020
Anonymous
United States
Hermoine Granger's Bag
Absolutely love this product!! Definitely brings my collection up a level! It is so cute and beautifully made.